Newton and Marie Curie at CFEL
Newton and Marie Curie are not often seen in the same room. At the CFEL building however, they both sit at the reception and seem to have a great time with Sakir Sagir, his colleagues at the front desk, and those who stop by for a chat.
Like their namesakes, they enjoy the company of scientists. That is where the similarities end, however. Newton is a yellow canary, Marie Curie his companion with the orange plumage. And both arrived at CFEL at the start of September, after Newton was found in one of the laboratory corridors.
Susanne Meier, a technical assistant with Hamburg University, discovered him: "I was in the building early one morning and there he sat, in the corridor, and all the windows were closed.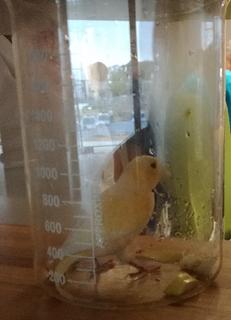 "After two attempts I caught him with a lab coat, put him in a measuring beaker and took him to the reception. We fed him some apple and bread crumbs to ease the shock. Then Sagir saw him and made it quite clear that he would like to keep him." Caretaker Gisbert, aka the good soul of the CFEL-building, was on the case within minutes. A cage was purchased, then a second bird to keep Newton happy, then a bigger cage (with en suite bath) to keep both of them happy. "They sleep very contentedly here at night," he says. And the downstairs café now provides fresh fruit and vegetables for them Sagir says both birds have become a focal point at the CFEL entrance. "People like to stand here and watch them," he says. "They come over for a chat now." He has googled the necessary bird-keeping know-how and soon figured out that two birds are better than one.
Where Newton came from remains a mystery. It is also not quite clear yet whether he is actually a male or a female. In a remarkable analogy with Schrödingers cat, he may be both - as long as nobody looks too closely.
So far, he and Marie Curie are literally sorting out the pecking order, taking the occasional bath and enjoying big feeds of millet.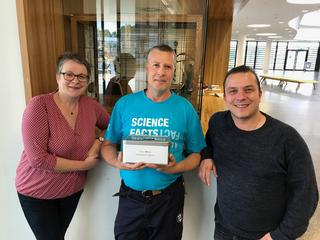 There is a donations box to keep the new staff members fed, watered and supplied with bird sand. Whenever the donations box is empty, Sagir will put it out. Please contribute if you can!