Contact
CFEL Information
Visiting CFEL
CFEL is located on the UHH/DESY campus in Hamburg Bahrenfeld, Germany. The DESY campus has two available entrances:

Main Entrance
Notkestraße 85, 22607 Hamburg, Germany

Side Entrance
Luruper Chaussee 149, 22761 Hamburg, Germany

Directions
Our address is Notkestraße 85, 22607 Hamburg, Germany. The Center for Free Electron Laser Science is housed in building 99 at DESY campus. For individualized directions go to Google maps.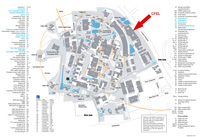 Getting Here

Hamburg Airport (HAM)
This is the international airport of Hamburg. Once you have landed, you have the option of taking a taxi or using public transportation (S-Bahn) to arrive at your final destination. Please read here for information on the S-Bahn.


Hamburg Central Station (Hamburg Hauptbahnhof)
This is the main railway station for Hamburg which connects long distance trains like the Intercity-Express (ICE), to the underground rail network of U-Bahn and S-Bahn.

Getting Around
Public transportation in Hamburg is operated by HVV. For visitor information and an explanation of the HVV public transportation network please read http://www.hvv.de/en/service/tourists/
Accomodation
To arrange a stay on the DESY campus, please visit the Guest Services page.


Questions or Concerns? Please contact:

Dr. Ralf Koehn, Research Coordinator
Center for Free-Electron Laser Science
Notkestraße 85
22607 Hamburg, Germany
phone:+49 (0)40 8998 5785
assistant: +49 (0)40 8998 6610
fax: +49 (0)40 8994 5785
ralf.koehn@cfel.de